Children's Activities
JOIN THE FUN IN

"THE FOREST"
Opportunities for children 4 years old through 6th grade
A sp

ecial Children's Message was available on
Sunday, May 3 at 9:45am. You can still watch it…click here…
If you missed it this year, plan to join us next year…click on the photo to check out the photos to get a glimpse of the FUN FUN FUN at VBS 2019 – IN THE WILD!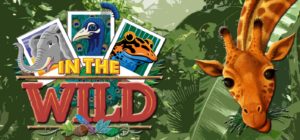 Check out the "Resurrection Scene" one of the Sunday School Classes developed during Easter!
Sunday School from
9:30-10:15 am
Children's Worship beginning at
10:30 am
Our worship curriculum, THINKORANGE, focuses on creating a partnership with the church and the home to help ensure that every child knows three basic truths:
I need to make the right choice

I can trust God no matter what

I should treat others the way I want to be treated.
Special Note:

In those months with 5 Sundays, our kids worship with their parents in the Worship Center.
We have a staffed nursery for children infant through 3 years old available for Sunday School, Sunday worship, and Wednesday evening.
Our Wednesday nights may include music, crafts, snacks, stories, lessons, videos and games. A great time to spend together and learn about God. Evenings may also include a special guest, a trip to SkyZone or South Wind Park.
Children (& adults) of all ages
Kim Barrington, Sensei 217-891-6242
Sessions held Monday and Thursday evenings, and Saturday mornings.