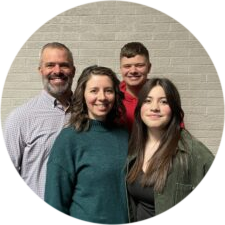 After serving in ministry positions at Nazarene churches in Illinois, Florida, California, and Ohio, Pastor Ben has returned to his home church to serve as Lead Pastor for Springfield First Church of the Nazarene. In 2002, Pastor Ben graduated from Olivet Nazarene University with a degree in youth ministry.
Pastor Ben is married to Michelle, and father to Jackson and Natalie. He enjoys playing disc golf, coaching Illini Basketball from his couch, drinking overpriced coffee, and spending time with family.
Pastor Ben is loved by God, and he wants you to know that you, too, are loved by God.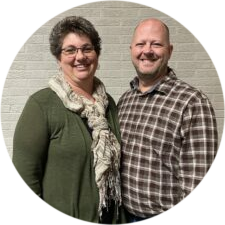 Tim and Peggy Tripp
Tim and Peggy have a vision that everyone openly recognizes and embraces that we were created by God for one purpose, to worship him through the way we live our lives. It's not just an opportunity, but our biblical responsibility to worship and serve Christ! Tim and Peggy along with their three children have all been active with the music portion of worship along with several other ministry areas of Springfield First Church of the Nazarene since 2009.

Harrison Ford

Harrison grew up in the church and has always been involved in ministry. He worked at a church in Decatur as the Discipleship Ministries assistant and found a passion for pouring into teens' lives. He is currently going to Nazarene Bible College for a degree in pastoral ministries. He and his wife have made it their goal to love and serve the youth at Springfield First Church Of The Nazarene.
Harrison is married to Bailee and father to Lincoln. He loves being active by playing sports like Disc Golf, Tennis, Baseball, and anything else that his wife Bailee will allow him. He loves to sit down and have lunch with people, and would love the chance to talk to anybody and everybody about anything at all.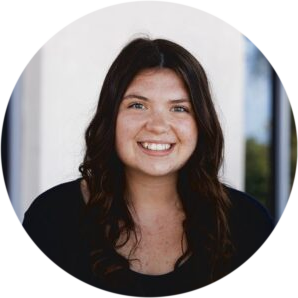 Dorie Bulthuis

Dorie is a recent graduate of Point Loma Nazarene University where she received a B.A. in Child and Adolescent Development. She is passionate about building faith in the next generation and looks forward to being a part of the Springfield First Naz team.
Peggy Tripp
Although this is the first time Peggy has been an office manager, her attention to detail, organizational skills paired with a pleasant personality and a love for the Lord makes this a good fit for her.